UltraMap Framework

Fully integration of UltraCam hardware/software

Scales well with heterogeneous systems

Fully utilizes available resources

Load balancing

Storage management

Support field and main office environment


Stand-alone mode




UltraMap AT

Interactive visualization of full-resolution level 2 images aligned as index map


Panchromatic

Color (RGB/CIR)


Complete 16 bit image pipeline

Overlap visualization using color-coded regions

Vector overlay data for additional
information visualization

Single and multi-projection for ground
control points

Guided ground control point
measurement

Automated tie point collection

Photogrammetric bundle adjustment


Sub-block support



| | |
| --- | --- |
| | |
UltraMap provides a complete and integrated photogrammetric workflow for UltraCam images. It consists of a flexible and scalable distributed system for managing and processing vast amounts of UltraCam data integrating UltraCam-specific hardware such as the DX data units, and the DKS docking station to support field and office environments.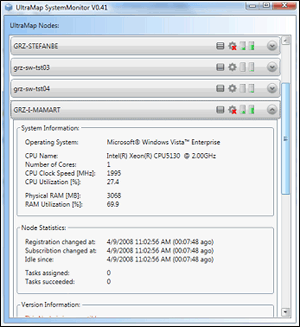 UltraMap SystemMonitor V0.41
UltraMap manages data download, distributed level 0-2/2-3 data processing, aerial triangulation, and interactive data visualization for quality control

Modules are based on two core technologies, the UltraMap Framework and DragonFly, another core component based on the Microsoft Seadragon technology

Framework is responsible for distributing UltraCam data across a heterogeneous system using load balancing and resource management

DragonFly fully supports multi-channel 16

The UltraMap AT package exploits both core technologies in order to provide interactive point measurement, and efficient distributed tie pointing for aerial triangulation of your projects.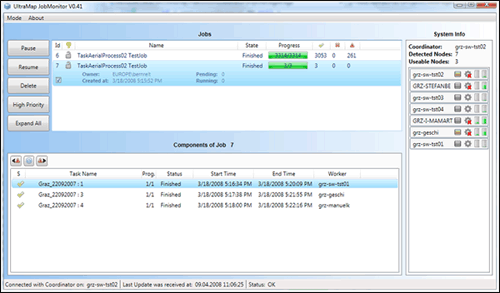 UltraMap JobMonitor V0.41