K E Y F E A T U R E S

The Trimble Harrier is an integrated solution, providing unmatched capabilities to tackle your most complicated projects:

Advanced camera and laser scanner sensors

Applanix POSTrack GNSS-aided inertial direct georeferencing and advanced flight management system

Computer system

Data storage and backup system

Premier imaging and laser scanning system for corridor and project mapping.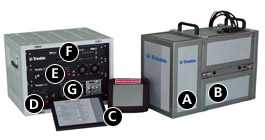 Trimble Harrier 56
Trimble Aerial Camera provides metric, medium format imagery.
Rotating polygon airborne laser scanner ensures high accuracy and reliability. Limited moving parts in the laser scanner and a rigid chassis design means you have to perform equipment calibration only once per year.
Easy-to-use operator and pilot displays provide real-time monitoring of system status, imagery, and ground coverage.
Power supply with UPS provides the system with clean, uninterrupted power even through aircraft power glitches.
Control computer integrates and controls all subsystems.
Applanix POSTrack provide GNSS-aided inertial direct georeferencing and advanced Flight Management System
Data recording units are sized for the vast amounts of imagery and laser scanning data generated by a truly productive system.
The Trimble Harrier Corridor Mapping Systems set a new standard for digital image acquisition and laser scanning. Designed for both aircraft and helicopter operation, the Trimble Harrier 56 is ideal for corridor mapping, project mapping, and remote sensing.
Incorporating a wide-angle, full-waveform digitization airborne laser scanner, the Trimble Harrier 56 enables you to extract the most comprehensive information. The laser scanner's 120,000- to 160,000-Hz measurement rate delivers high point density on the ground to provide the detailed modeling data needed for precise planning, engineering, and monitoring applications.