K E Y P E R F O R M A N C E S

Integrated digital medium-format frame camera
Image resolution up to 3 cm
Up to 10 kHz effective distance measurement rate
60 degrees field of view (80 degrees as option)
Maximum altitude of 6,000 m for images
LIDAR integration
Cost effective solution

C U S T O M E R B E N E F I T S

Low cost LIDAR system
Complete aerial image solution
Competitive advantage
Flexible usage
Integrated data flow and work flow of LIDAR and image data processing
Toposys LIDAR Solutions > Harrier24 | Harrier56/G4 | TopPIT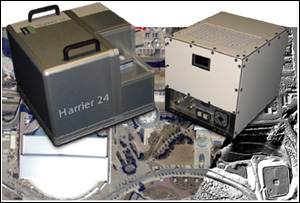 HARRIER 24
The Harrier 24 is the ready to use low cost LIDAR system that allows you to easily and successfully add LIDAR Scanning to your existing business.
But you can get more: the Harrier 24 is also the digital imaging answer for aerial survey and remote sensing.
Having additionally a wide angle Laser scanner integrated, the Harrier 24 allows you also to expand your business just by switching on the Laser.

Harrier 24 integrates a medium-format digital camera and the Laser scanner Riegl LMS-Q240, a very cost effective airborne Laser scanner.

Data processing is workflow oriented, optimized and fully integrated for both, images and elevation data.